Visiting one of my regular quilting blogs I learned about the quilty bucket list that is running all of March. It got me thinking about the bucket list for quilts. I mean I have a lot to do on a WIP list, those half finished quilts that got boring as I was making them for example.
The Quilty Bucket List is being hosted by Stacey at the
Tilted Quilt.
She offers her bucket list and I must say I am impressed with her desire to complete all these quilts. They will keep one busy for a long while as they are technically challenging and require some patient long term sewing.
Among her bucket list is a double wedding ring, an applique quilt along with swoon and a string quilt. That is quite a mix of quilts.
So what is my quilted bucket list? Hmmm.
Whole Cloth Quilt
by Quilted designs.com
I have wanted to make one of these every since I saw one on a quilt frame at one church I was a student minister at. I think I would use one of the grunge fabrics from Basic Grey and pick a pattern with swirls, anchors and ocean like patterns. Not sure if I would do a bed size, maybe just limit myself to a lap quilt that I can complete and hang on a wall.
Applique Quilt
from Amazon
Every since having a subscription to Australian Patchwork and Quilting I have wanted to make an elaborate applique quilt. I debated whether to choose a Baltimore Album quilt or do something a bit different. I went for different after seeing a book about Jacobean flowers. Once more I would do this as stole or a small quilt to hang on the wall. I really don't mind applique as long as I have good light, so this might be the thing on an upcoming road trip.
ROYGBIV
Ever since I saw this quilt pattern I have wanted to make this quilt. I love it! I mean really, really love it.
BARN QUILT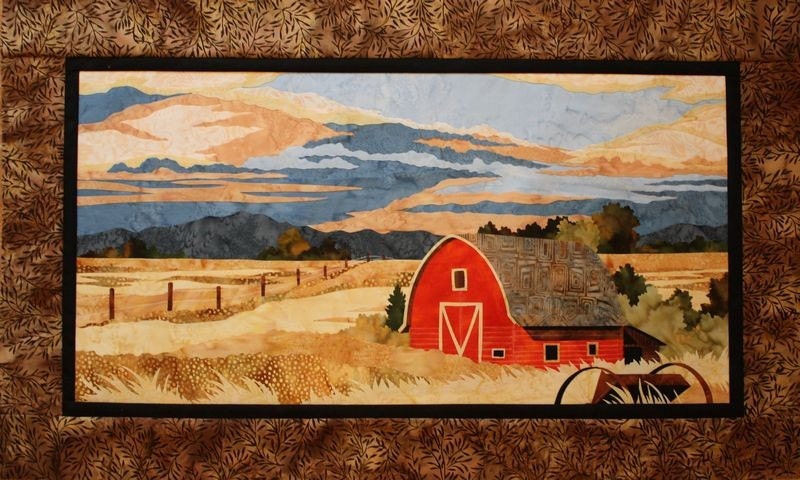 by Toni Whitney designs
Since my parents sold the farm, I have wanted to do one of these. A barn quilt. I have seen a few different versions of them over the years. Piecemaker I believe had a year of barns for example. I think if i keep to a wonder under with rich fabrics I can get an even better effect.
I think that is a pretty good start for the bucket list don't you?